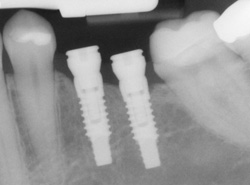 Paoli, PA Dental Implants at SV Dental!
Drs. Smith and Vila have been providing dental implants to patients throughout the Paoli, PA community for more than 20 years. Their experience has led them to be two of the most well-respected dentists when it comes to dental implants and smile restoration.
Implants are an excellent option for replacement of missing teeth, especially in instances when the adjacent or surrounding teeth are in good condition and do not need treatment. An implant lets you replace just the tooth that is missing without involving other teeth.
Why is replacing missing teeth so important? An empty space left by a missing tooth can alter your bite, leading to increased wear and tear on your remaining teeth. It can also lead to loss of bone in your jaw, called bone resorption. In both the short and long term, it is crucial to replace a missing tooth.
A dental implant is made up of two parts: the post, usually made from titanium, which is inserted into the jaw bone, and the restoration, made of high-quality ceramic or porcelain, which is attached to the post and becomes the visible tooth portion of the implant.
An implant differs from a bridge because it replaces only the missing tooth without needing to use the adjacent teeth for support like a bridge does. Implants can also be used when many teeth are missing such as with an implant-supported denture, which is the firmest hold possible for a denture.
Implants are the longest lasting dental replacement option we have to date. You may actually lose other natural teeth before your implant! While implants are strong, you'll still need to brush and floss regularly, and visit our Paoli dental office for twice- yearly cleanings with Drs. Smith and Vila.
Should you ever need additional information about our Paoli practice, call or email us directly, we are happy to answer your questions and provide you with dental health information. Let us care for your entire family. We look forward to meeting you.